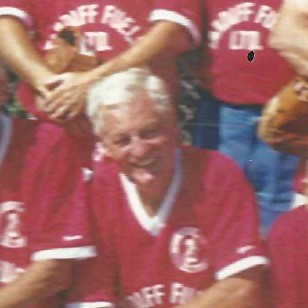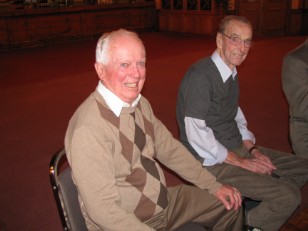 HISTORY OF THE PETERBOROUGH MEN'S SENIOR SLO-PITCH LEAGUE
When Scarborough ex-pat Don Mark arrived in Peterborough in 1990, to his dismay he found there was no place for senior men to play softball. Don soon set about changing that with enthusiatic help from many quarters; notably Don Sherry and the legendary Peterborough Hall of Famer, Jack Mackness.
Local civic staff like Councillor Jack "Lefty" Doris, Kevin Ready, Gerry Peters and Terri-Lynn Johnston provided much support.
The Charter Executive was made up of Jack Mackness - Pres., Don Sherry -V.P., and included Don Mark, Lefty Reid, Phil McKeating, Doug Mortimer, Don Batley and El Conroy.
Along with a generous government start-up grant, the first year fielded 5 teams sponsored by Tardiff Fuels, Lucky Strike Bait, Pony Express, Mason Homes and Grandview Park.
Tuesday and Thursday were chosen as game days and Kinsmen Park was selected as the regular venue.
The league featured men with little experience right up to all-stars of the era like Neil Thompson, "Lefty" Doris, Fred Mortimer, Herb Heffernan, Bill Edger, Gene Killen, Carm Jaquith, Earl Hoover and Ray Harding. Others came in a little later, such as the Wassons (Red, Neil and Dean), Bobby Crowe, Greg Marchen and Clair Leahy.
The local media were quick to take up the cause, notably Gary Dalliday with CHEX TV, Bob Feaver at the Examiner and Paul Rellinger at Ptbo This Week, as well as CHEX Radio and Country 105.
The Annual Player Draft was much anticipated pre-season and opening day was a big event, with media in attendance and City Representatives taking the 1st swing - Mayor Sylvia Sutherland never missed.
The league was an immediate success, not only from a sporting standpoint but socially. The stands had numerous regular fans, with wives, families, and friends often filling the south-end bleachers at Kinsmen Park. Vic Stevenson, the original 50-50 man kept the park entertained with "You can win with one but you can't win with none". For many years, Cam the Hot Dog Man was a welcome fixture. In later years, Peter Flemons became an invaluable do-it-all man.
For many years, social activities played a big part in maintaining a group spirit. There have been picnics at Lang Village, team BBQs at players homes, golf tournaments, euchure tournaments, a Scarborough exchange day/skills competition and a year-end awards banquet, dinner and dance.
As a player waiting list grew, a Wednesday morning "Rookie" league was eventually created that continues to act as a feeder source for the main league.
The Peterborough Seniors Hockey Club was a direct spin off from Slo-Pitch, as was, to a lesser degree, a Wednesday Morning Bowling League.
Photos:
left top - Don Mark (1991)
bottom left Phil McKeating and Jack Mackness (2015)
below - 1991 Champs -Tardiff Fuels